(PRWEB) February 28, 2014
Animal Support applauds the passage of Logan's Law by the State's House Judiciary Committee and urges Michigan's animal lovers to support the bills as they head for a full House vote, followed by the State Senate and Governor. Animal lovers are asked to demonstrate their approval of the bills online.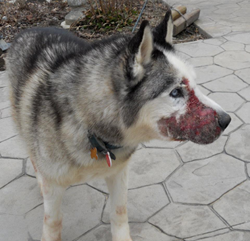 I really appreciate the endorsement and support of Animal Support and, in particular your help with bringing Logan's attacker to justice.
Matthew Falk the creator of Logan's Law thanks Animal Support and its cofounders Dr. Michael Omidi and Julian Omidi for their ongoing support for passage of a new animal protection bill in Michigan. Logan's Law mandates a registry of convicted animal abusers and prohibits animal shelters from allowing anyone on list to adopt a pet.
The bills creating Logan's Law were written and submitted in memory of Falk's beloved Siberian husky Logan who needlessly died after an attacker threw acid in the dog's face. Animal Support continues to offer a $500 reward for information leading to the arrest and prosecution of Logan's attacker.
"While losing Logan was a horrible thing, my goal has been to channel my grief into doing something positive for animals all over the state, maybe even the country," says Logan's Law creator Matthew Falk. "I really appreciate the endorsement and support of Animal Support and, in particular your help with bringing Logan's attacker to justice. Together, I'm hopeful that what we start here in Michigan will eventually spread throughout our great nation. Logan's Law could do a lot of good for pets everywhere."
A series of four bills, collectively known as Logan's Law, unanimously passed the House Judiciary Committee on February 6, 2014 and now head to the full House of Representatives for approval. A complimentary set of four bills will soon be voted on by the full Senate following their approval by the Senate Judiciary Committee last November. One approved, the House bills will be considered by the Senate and the Senate bills by the House. The final requirement for the bills to become Michigan state law is signature by the Governor.
In spite of overwhelming public support, Logan's Law has moved through the legislature slowly. Supporters are hopeful the bills will land on the governor's desk for his signature by summer. The petition urging Michigan Governor Rick Snyder and members of the State's Senate and House of Representatives to pass Logan's Law is available at:http://www.change.org/petitions/support-logans-law.
Logan's Law (http://www.loganslaw.com and also http://www.facebook.com/passloganslaw) is a set of bills that creates a statewide registry for animal abusers, so that their names are easily accessible to pet adoption centers. The bills prohibit the adoption of animals by anyone on that list and enforce a mandatory annual registry fee for all registrants to fund maintenance of the registry.
Animal Support (http://www.animalsupport.org) is dedicated to addressing pet over-population and abuse by promoting charities working on behalf of animal well-being. The organization was founded by brothers Dr. Michael Omidi and Julian Omidi to advocate for animal protection, rescue, adoption, and spay and neuter laws. Animal Support does not accept donations but encourages direct contributions of money and talents to the charities and organizations featured on our website. For more information about Animal Support, send a message using the website's Contact Us function, check out Animal Support on Facebook, Twitter, Google+, and Pinterest.
Media Relations
Animal Support
888-332-3555
Source: PRweb News Supporters of Logan's Law Thank Animal Support for Backing New Animal Protection Law