(PRWEB) February 07, 2014
Julian Omidi and Dr. Michael Omidi, co-founders of Animal Support, applaud the Facebook "watchdog" who reported an appalling photo of an endangered puppy. The posters of the photo were consequently arrested for animal cruelty.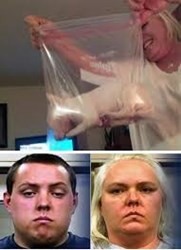 We must send a message that this kind of mistreatment is absolutely unacceptable and punishable by law.
An animal welfare advocate was appalled by what he saw posted on Facebook – a photo of a newborn puppy nestled in a plastic freezer bag. The concerned citizen duly reported the image to local authorities and the Albuquerque woman and son who posted it were arrested for animal cruelty. "The person who reported this incident did the right thing. Animal abuse is not acceptable in any and all forms, even in seemingly joking social media posts. It is our responsibility to do whatever we can to put a stop to this sort of behavior," says Animal Support cofounder Julian Omidi. "We must send a message that this kind of mistreatment is absolutely unacceptable and punishable by law."
According to the New York news site The Daily News, the mother and son were measuring the size of what appeared to be an eight-week old puppy inside a plastic sealable bag. Even though the bag was clearly open, the puppy's face was smashed in the corner of the bag. Investigators state that the puppy was much too young to lift its head and breathe fresh air and could have easily suffocated. The puppy is now being cared for by relatives of the family and the mother and son have been charged with animal cruelty. (http://www.nydailynews.com/news/national/pair-charged-animal-cruelty-putting-puppy-ziplock-bag-article-1.1521641)
This is not the first time watchful social media users have reported animal abuse posted online, nor is it the most disturbing example. In 2010, online videos were posted of a Canadian man suffocating kittens in a vacuum bag, causing the animal welfare community to set up a network of investigators to identify the abuser. Concerned volunteers eventually discovered the identity of the man who posted the video and reported his crimes to the Toronto Police Department. During the investigation, the man murdered an exchange student living in his apartment building.
"We all have an obligation to report animal abuses for the safety of the entire community, and we strenuously encourage anyone who sees an animal being abused to report it immediately," says Dr. Michael Omidi, cofounder of Animal Support.
Animal Support applauds the individuals that reported this act of animal abuse. Animal Support is currently requesting suggestions for organizations that they can support that will encourage the proper reporting of animal abuse to protect our animal population.
Animal Support (http://www.animalsupport.org) is dedicated to addressing pet over-population and abuse by promoting charities working on behalf of animal well-being. The organization was founded by brothers Dr. Michael Omidi and Julian Omidi to advocate for animal protection, rescue, adoption, and spay and neuter laws. Animal Support does not accept donations but encourages direct contributions of money and talents to the charities and organizations featured on our website. For more information about Animal Support, send a message using the website's Contact Us function, check out Animal Support on Facebook, Twitter, Google+, and Pinterest.
Media Relations
Animal Support
888-332-3555
Source: PRweb NewsAnimal Support Impressed by Dutiful Facebook Watcher Who Reported Animal Endangerment